The First Season of 2023 is Here!

In 2022 we introduced our seasons format, bringing more digital rewards and competitive opportunities to everyone. In 2023, we will be doing it again. But better.
Operation Uprising is the name of our first season of the year and brings a new lore, digital rewards and other exciting additions to the site.
The theme for the season is the rise of AI, robots and the potential assimilation of the human race. The grind begins now and runs until 31 May, with the key additions and updates being:
A new Battle Pass with new avatars, calling cards and Embers. Free to all.
New competitive missions.
Treasure hunt.
Season Factions.
An updated Giveaway page.
Daily Embers claim via your dashboard.
Elo loss or gain is shown per match.
Elo degradation and rank reset for selected titles.
User's history tab filters per game with Elo graph of last 10 matches.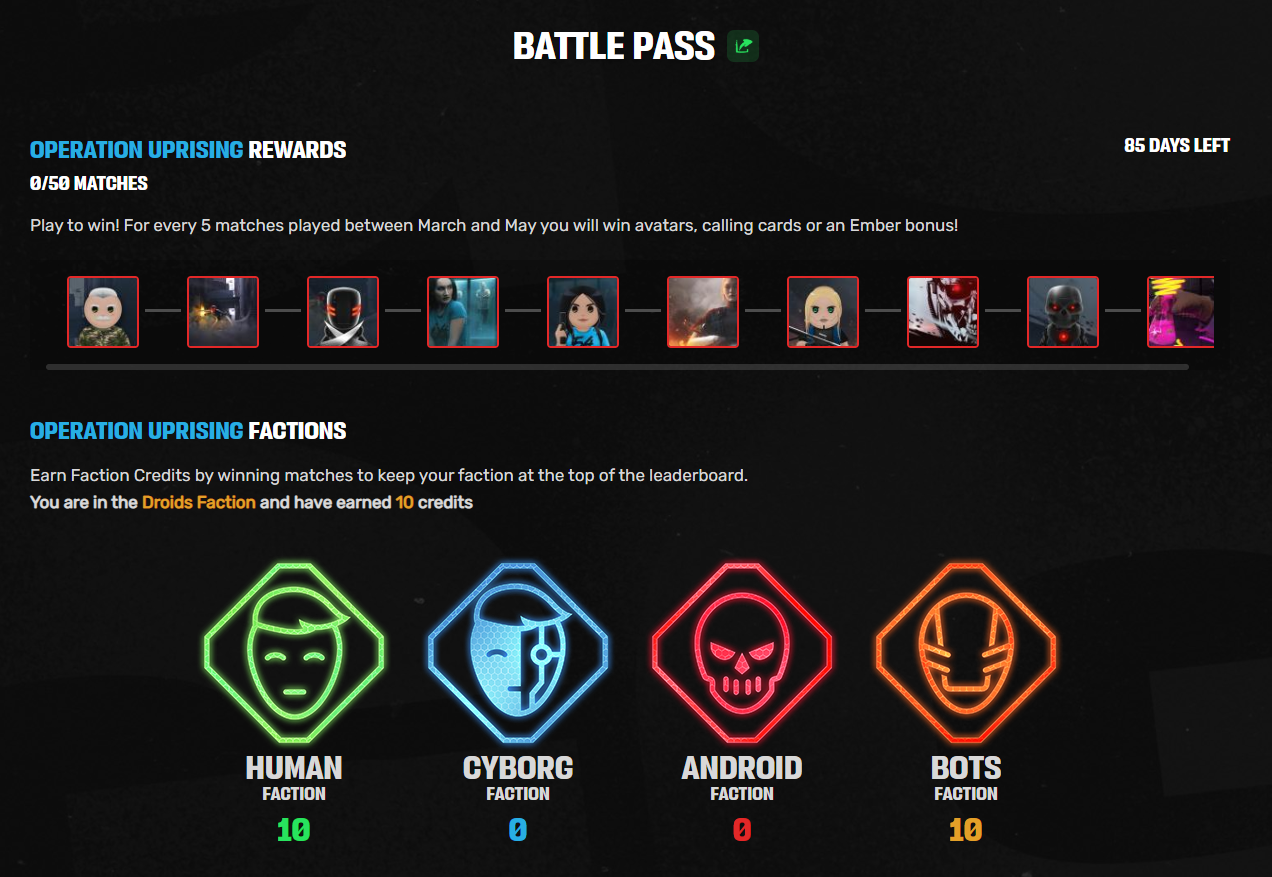 JUST SOME DETAILS
Join a Faction. Get competing. Every match you play gets you closer to the next Battle Pass unlock. Every point earned ensure your faction stands the tallest at the end of the season, and the faction standing at the top will see additional rewards for some of its faction members.
A number of titles have had their annual rank reset implemented, leveling the playing field for the start of another year of competition. Additionally, while Elo degradation has been part of our system since its introduction, this year, higher ranks will degrade faster than others, while a notification of Elo degradation will be sent.
If you're looking for an easy Embers bonus every day, claim you daily visitor bonus on your dashboard. Otherwise, gain Embers via your Battle Pass progress and the new missions available.
AND STILL TO COME...
This is just the start of the season, but we have a number of other additions coming over the next few weeks. This includes *******, ******, ******** and more.
Keep your eye on our socials and download our app to get notifications as the announcements occur. See you on the battefield.