Engage at rAge... live and digitally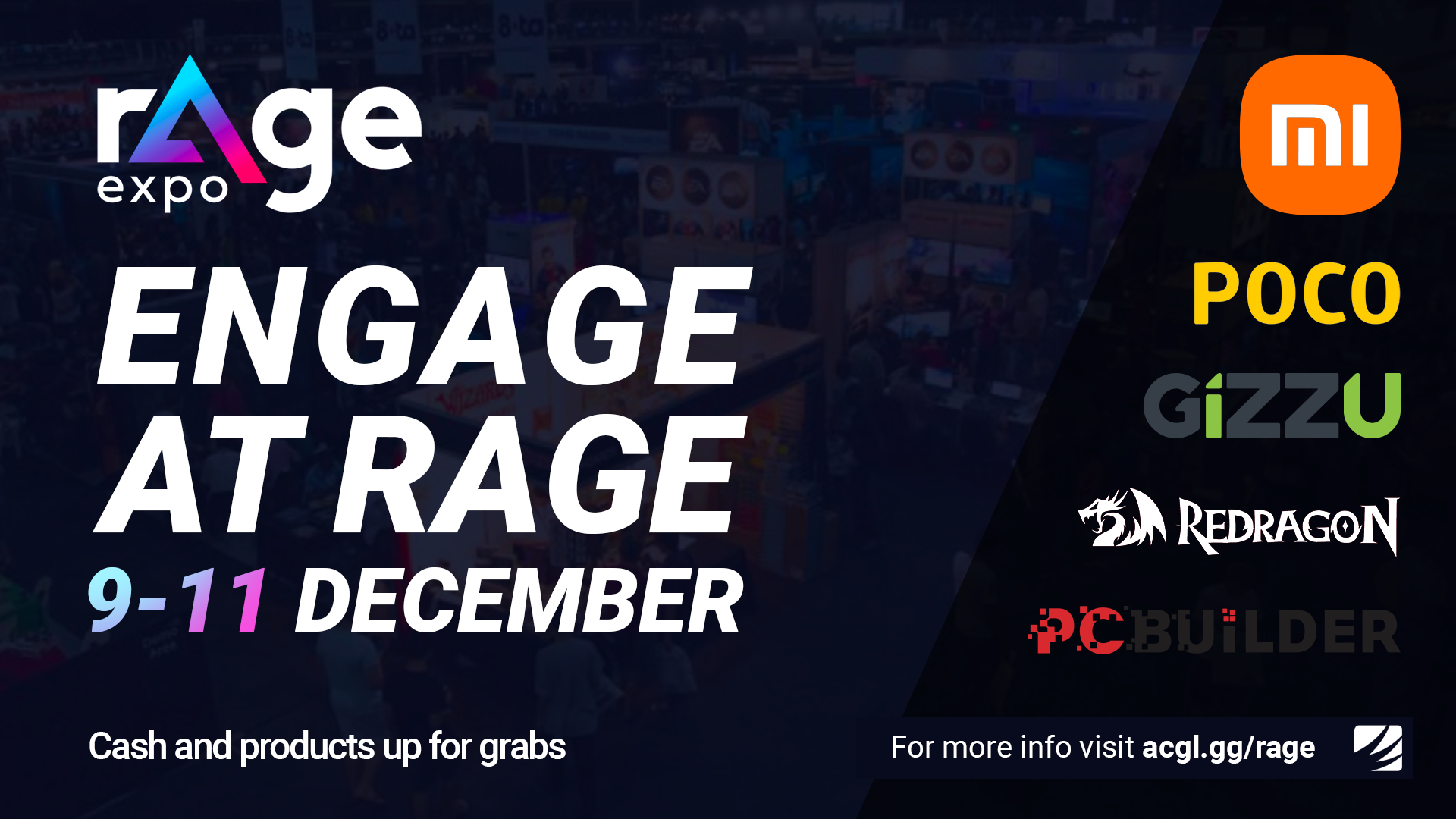 The 2022 rAge Expo is almost here and the ACGL family will be there in full force.
This year, we will be bringing a number of activities to life with Redragon, POCO, Gizzu, PCBuilder and Xiaomi. Thanks to these great brands, there will be over R150,000 in products (as well as cash) up for grabs. All the brands will be conveniently situated alongside each other in Hall 3 of the Gallagher Convention Centre from 9 to 11 December, making some of the activities even more convenient to complete.
For those that remember the previous live event in 2019, and the digital event in 2020, some of the elements and activities we will bring to life at this iteration of rAge will be familiar. By completing a variety of tasks - both at the event and via our site - you will earn tokens which you can use to spin for instant prizes and entries into random draws.
START EARNING BY...
You can earn tokens at rAge Expo by visiting the partner stands, as well as online. It should be noted that to use the spins and have your tasks tracked, you will need an ACGL account and be logged into it to ensure everything is tallied. An ACGL account is completely free and only takes a minute to complete for use.
If you can't attend rAge this year (or can attend but want even more chances to win), then give these online activities a go:
Wordle: Solve the daily rAge Wordle for tokens
Trivia: Answer geek-related questions to earn tokens
Missions: There are a number of missions to complete every day for - you guessed it - more tokens. Keep your eye on the 'Missions' tab on the site
Social media keys: Keep an eye out on the Redragon, PCBuilder, Gizzu, POCO, and ACGL Facebook, IG, and Twitter accounts throughout the weekend as they'll be dropping some keys that'll let you redeem more spins
Heading to Gallagher Convention Centre for the weekend? Then make sure to visit the Redragon, POCO, Gizzu, PCBuilder and Xiaomi stands for more opportunities to gain tokens:
QR Code Hunt: Find the hidden five codes for tokens (hint... you're probably surrounded by them...)
Upload Photos: Share photos from rAge for tokens. We will share some of our favorites on the site
Take a Selfie: Show us your selfie taken around one of the stands and tokens shall be yours
PC Rebuild: The PCBuilder PC Rebuild Race is a new addition to rAge and promises to reward the quickest builders with fame, glory, extra spins, and maybe even a chance to walk away with a brand-new gaming PC
COMPETE AND WIN
Alongside the random draws and giveaways, eager participants can also prove they're the best by competing in a variety of competitions:
The Redragon Keyboard Rebuild Race: Fastest time every hour wins a Redragon keyboard.
POCO x Carry1st x COD Mobile: Short-form COD Mobile and highest kill leaderboards will see winners securing POCO phones.
FIFA 23 Tournament Series powered by Gizzu: Eight qualifiers over the weekend with the top eight competing Sunday for a share of R10,000 cash and Gizzu products.
PCBuilder: Build a PC digitally or with actual parts. Fastest build each day will be rewarded.
JUST HAVE SOME FUN. PRESS ENGAGE
Demo products, freeplay and more will be in offer.
At the PCBuilder stand specifically, a few unique opportunities await. Test out the PCBuilder PCs on demo, as well as the RODE streaming gear. Or release all your years of COVID-isolation-aggression on some unsuspecting PC parts. The PCDestroyer will show those old PC parts not to upset the blunt end of your hammer...
These are just a taste of the activities and entry mechanics on offer. For more on the activities happening on the Redragon, POCO, Gizzu, PCBuilder and Xiaomi stands, check out the landing page and keep an eye on our - as well as the participating brands' - social media for even more details.
For more on the event, head to the dedicated landing page. Additional links for ACGL can be found here.
----------
This will not be the only space you will find the ACGL family at rAge Expo this year. We will be assisting MSI with their product range. A crew will be staying up through the night as Lenovo tests the ability of ten contestants in a marathon to see who can stay awake for longer than is humanly decent. We will be with the Predator Gaming team as we help discover the Predator Ultimate Gamer, and then there is the return of Call of Duty to LAN. This year, teams will compete for R40,000 cash as the #C3ZA series heads to LAN for the first time.